continuation of part two
read tissue processing part one here
3. Embedding
It is the process by which tissues are surrounded by a medium such as agar, gelatine, or wax which when solidified will provide sufficient external support during sectioning.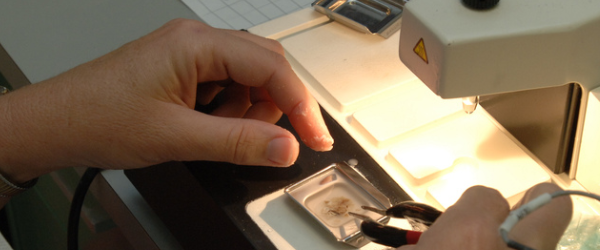 Properties of embedding media
Ideally an infiltrating and embedding medium should be
soluble in processing fluids
suitable for sectioning and ribboning
molten between 30°C and 60°C
translucent or transparent; colorless
Stable
Homogeneous
capable of flattening after ribboning
non-toxic
Odorless
easy to handle
inexpensive
Paraffin wax
most popular embedding medium in histopathology
It is a mixture of long chained hydrocarbons produced in the cracking of mineral oil.
Paraffin wax permeates the tissue in liquid form and solidifies rapidly when cooled.
It has a wide range of melting points ranging from 47 to 64°C which signifies its use in the different climatic
Heating the paraffin wax to a high temperature alters the properties of the wax.
It is inexpensive and provides quality sections
Compatible with most routine and special stains
Paraffin wax additives
These additives helps to increase hardness
Substances added to paraffin wax include beeswax, rubber, ceresin, plastic polymers and diethylene glycol distearate.
Many of these additives had a higher melting point than paraffin wax and make the tissue more brittle.
MODIFIED PARAFFIN WAXES
The properties of paraffin wax are improved for histological purposes by the inclusion of substances added alone or in combination to the wax:
improve ribboning: prolong heating of paraffin wax at high temperatures or use micro-crystalline wax
stearic acid : increase hardness
spermaceti or phenanthrene : decrease melting point
5% ceresin, 0.1-5% beeswax, rubber, asphalt, bayberry wax, or phenanthrene : improve adhesion between specimen and wax (alter crystalline morphology)
Piccolyte 115, a thermoplastic terpene resin added at the rate of 5%-10% to the infiltrating wax
Plastic polymers such as polyethylene wax, added to improve adhesion, hardness and plasticity
Dimethyl sulphoxide (DMSO) added to proprietary blends of plastic polymer paraffin waxes reduces infiltration times and facilitates thin sectioning.

Alternative embedding media
Resin
Resin is used exclusively as the embedding medium for electron microscopy, ultra-thin sectioning for high resolution and also for undecalcified bone.
Agar
Agar alone does not provide sufficient support for sectioning tissues.
Its main use is as a cohesive agent for small friable pieces of tissue after fixation (double embedding)
Fragments of tissue are embedded in melted agar, allowed to solidify and trimmed for routine processing.
Gelatin
Gelatin is primarily used in the production of sections of whole organs using the Gough-Wentworth technique and in frozen sectioning.
It is rarely used.
Celloidin
The use of celloidin or LVN (low viscosity nitrocellulose) is discouraged because of the special requirements needed to house the processing reagents and the limited use these types of sections have in neuropathology.
It is rarely used.
Double embedding
It is the process by which tissues are first embedded or fully infiltrated with a supporting medium such as agar or nitrocellulose, then infiltrated a second time with wax in which they are also embedded.
Embedding tissues in paraffin wax
Requirements for embedding are as follows:
a supply of clean, filtered paraffin wax held at 2-4°C above its melting point.
a paraffin dispenser
a cold plate to rapidly cool the wax.
a supply of moulds in which to embed the tissues.
Paraffin wax is dispense automatically from a nozzle into a suitably sized mold.
The tissue is oriented in the mold, a cassette is attached.
The mold is placed on a small cooling area to allow the paraffin
Overnight processing schedule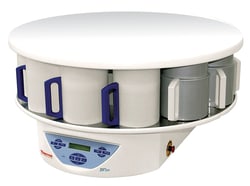 | | | |
| --- | --- | --- |
| Reagents | Time | Temperature |
| 10% Formalin | 1 h | 38°C |
| 10% Formalin | 1 h | 38°C |
| 50% Alcohol/formalin | 1 h | 38°C |
| 70% Alcohol | 1 h | 38°C |
| 95% Alcohol | 1 h | 38°C |
| 95% Alcohol | 40 min | 38°C |
| 100% Alcohol | 1 h | 38°C |
| 100% Alcohol | 40 min | 38°C |
| Xylene | 1 h | 38°C |
| Xylene | 30 min | 38°C |
| Paraffin | 30 min | 38°C |
| Paraffin | 30 min | 38°C |
| Paraffin | 30 min | 38°C |
| Paraffin | 30 min | 38°C |
Microtome cutting
The tissue block is attached to microtome and ribbons are cut.
Equipment required for Paraffin section cutting
Flotation (water) bath
Slide drying oven or hot plate
Fine pointed or curved forceps
Sable or camel haired brush
Scalpel
Slide rack
Clean slides
Chemical-resistant pencil or pen
Water Bath
water bath is used for floating out tissue ribbons after sectioning.
The trailing end of the ribbon making contact with the water first
The temperature of the water in the bath should be 10°C below the melting point of the paraffin.
Alcohol or a small drop of detergent may be added to the water allowing the section to flatten out with greater ease
30 seconds are long enough for a ribbon to flatten
Slides
For normal routine work 76 × 25 mm slides are universally used.
Those with thickness of 1.0–1.2 mm are preferred
Section adhesives
Albumen
gelatin
Starch
Poly-L-lysine (PLL)
3-aminopropyltriethoxysilane (APES)