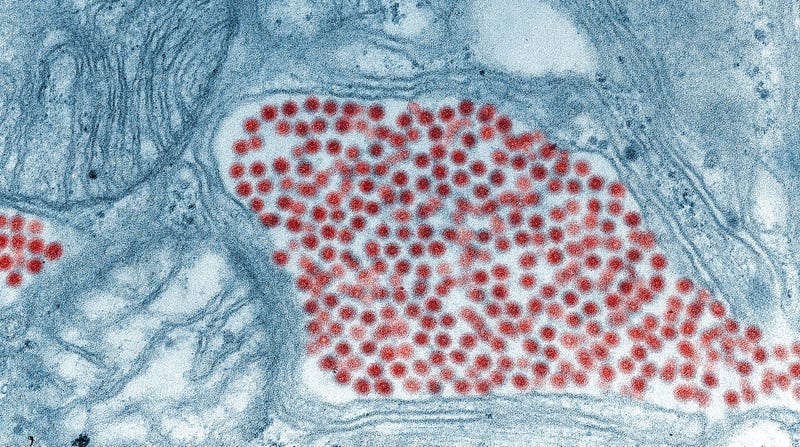 Eastern equine encephalitis is a viral illness that is transmitted to people and horses through the bite of an infected mosquito. The virus is an alphavirus and is closely related to western equine encephalitis and Venezuelan equine encephalitis viruses
Most people infected with this virus will not develop any symptoms. Symptoms of illness may include a sudden onset of fever, chills, and muscle or joint aches. Cases with severe illness may begin with fever, headache, and vomiting that may progress into disorientation, seizures, and coma.
Eastern equine encephalitis is the most severe mosquitoborne disease ,Approximately one in three persons who develop severe illness die. Most of those who survive will have permanent neurologic damage.
There is no treatment for eastern equine encephalitis. Hospitalization and supportive care may be needed.
Eastern equine encephalitis virus is maintained in a cycle involving Culiseta melanura mosquitoes and birds. This mosquito is commonly found in tamarack bogs or hardwood swamps and feeds almost exclusively on birds. People become infected with this virus by other mosquito species that create a "bridge" between infected birds and mammals. Common human-biting mosquito species such as Aedesvexans and Coquillettidia perturbans
Diagnosis
Treatment
Although there is no specific treatment for Eastern Equine Encephalitis (EEE), there are several things that can be done to help manage the symptoms of the disease:
Anticonvulsants for seizures

Respirator for breathing problems

Pain relievers for headache, fever or body ache

Sedatives for irritability or restlessness

Corticosteroids for brain swelling
Preventive measures
The best way to prevent eastern equine encephalitis is to protect yourself and your family from mosquito bites:
Avoid outdoor activities at dusk and dawn, the peak feeding time for many mosquitoes, particularly from July through September.

Use repellents containing DEET according to label directions – up to 30% DEET is safe and effective for adults and children over two months of age. Other effective repellents include picaridin, IR3535, and oil of lemon eucalyptus. Only use products that are registered by the Environmental Protection Agency.

Pre-treat clothing and gear with permethrin-based products.

Wear loose-fitting, long sleeved shirts and pants.

Keep mosquitoes out of your home by maintaining screens on windows and doors.